Jump to Section:
If you can dream it, we can build it. Our machine shop includes complete bolster systems allowing us to adjust dies with the accuracy necessary to craft any part. We're equipped to handle the heavy machining of various steels and alloys up to a 152″ x 98″ machining job on a CNC machine and a 200″ x 118″ machining job on a manual machine. We have complete trim tooling capable of precise, close trimming to part geometry. ESTERLE's tool exchange systems are quick, efficient, reliable, and recognized as the best quality machines available. With them, we are able to accommodate a large selection of tools with varying weights to meet the demanding requirements of even the most complex machining centers. We design configurations to work with all machine types, and we offer both vertical and horizontal applications.
Heavy Machining
Top-Notch Technology
Our facility is equipped with the latest technology in CNC automation and manual machinery. We are prepared for heavy machining of various steels and alloys. We have sixteen injection molding machines with capacities from 90 to 2600 tons. Our facility has modern CNC, manual horizontal boring mills, and vertical machining centers – our wide variety of heavy machining equipment sets us apart. If you have only one small project, or if you have a large-scale heavy machining job, we are the partner you want.
Flexible Availability
Our facilities operate 24 hours each day, seven days each week, with supplementary time available on Saturdays. Our normal shipping/receiving hours are 7:00am to 3:30pm, Monday to Friday; however, special schedules can be arranged if needed. Whatever your heavy machining needs, we tailor to your requirements.
Quality Equipment
Because we use the latest CNC technology, we guarantee the best quality product. Our precision automated and manual equipment allow greater efficiency, producing materials quickly. With such high-tech heavy machining equipment, we provide both horizontal and vertical applications. We have a complete bolster system, enabling us to make detailed adjustments. This system is also capable of handling steels and alloys up to 152" x 98" on CNC machines and 200" x 118" on a manual machine. Because of our superior heavy machining, we provide you with superior products.
Specialized Expertise
Our heavy machining facility specializes in plastic injection mold engineering, plastic injection molding, and other forged tooling and machining abilities that you may require. Our expertise ranges from designing to engineering to building, no matter the types of molds or materials.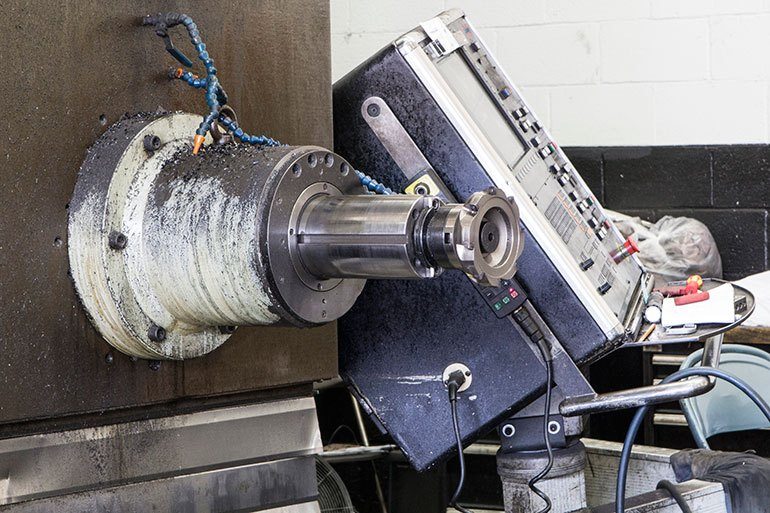 Large Specialized Machining
Custom Process
Rarely does a large specialized machining project require just specialized machining. At ESTERLE, our engineers will work with your team to tease out the processes that can be developed with the most advanced software and automation tools and those that need unique, customized, handwork. With full machining capabilities and an in-depth understanding of the machining processes available, our engineers are well equipped to help you navigate the options. The result is the most advanced, but unique large specialized machining process, perfectly suited to your project.
ISO 9001:2015 Certified
Being ISO certified is not just an award we proudly display in a frame on the wall. At ESTERLE, we're committed to outstanding customer service. What that means is that regardless of whether you're working with us to create the most tiny but intricate part for a complex production process or you're working with us to develop a unique process for proprietary, large specialized machining, each ESTERLE team member is dedicated to your projects needs, specifications, and satisfaction. Being ISO certified means that you'll get the same level of service for your large specialized machining project as a customer with a large run of a small, simple part.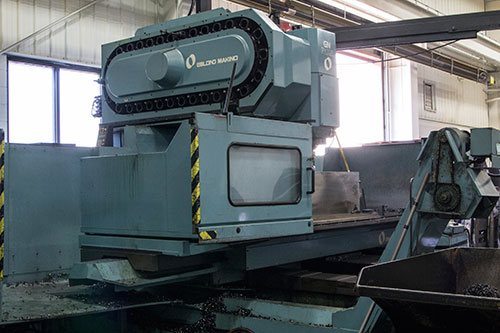 Five Axis Machining Services
Modern machining services have come a long way from hand-drafted prints and mechanical machining mills. With today's computer-driven speed and accuracy, machining complex, multi-dimensional components is quick, efficient, and cost effective. So why bother with five-axis machining services?
Benefits of Five-axis machining:
Multi-dimensional profiles: Five-axis machining allows for the fabrication of complex, multi-dimensional profiles from a solid material in a single setup, reducing operator involvement (and possible error) and increasing production capacity and accuracy.
Effeciency: Five-axis machining makes use of shorter, more rigid tools, which allow for higher spindle speeds while reducing both vibration and operating load on the tools, improving tool longevity, and reducing overhead costs—savings that can be passed on to you, the customer.
Variety: Five-axis machining is available for many materials, from steel alloys, stainless steel, and other metals to plastic polymers, fiberglass, and other composites.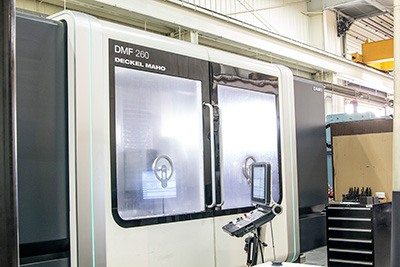 Request a Quote
Please contact us about our machining, molding, or plastic tray products and our friendly sales team will be glad to provide you with a no-obligation FREE quote.